A Resource Centre
In the rural areas where Annai Mary Foundation work, poverty causes many children to drop out of school. Their families can't afford to buy the essential school supplies, from pencils to notebooks.
Our 'Resource Centre' is an open house for all in the village.  It acts as a day care centre for children in the age group of two to six years and we prove free mid-day meals for all. In the evening, the elders get together at the centre to discuss various matters. This also gives them the opportunity to interact with the children.
Education – a way out of poverty
Over 650 children attend 11 balwadies and 7 free tuition centres run by Annai Mary Foundation.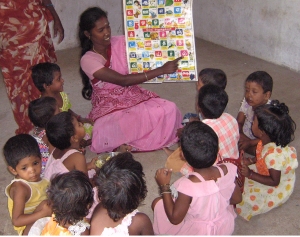 These are sponsored by Tamil Nadu Social Welfare Tamil Nadu. The Balwadies provide childcare services from 9 a.m. to 4:15 p.m. Girls from the community are recruited as teachers.  The time is filled with play, story-telling, arts and crafts, songs, literacy activities, and learning about the environment. Children receive nutritious food and preventive and curative healthcare through the use of indigenous herbal and home remedies.
Educating a girl is pivotal
We have taken efforts to advocate for girl-child education. We  dispel myths and apprehensions that would prevent families sending their daughters for an education.